We have developed an award winning* digital vending machine to reduce undiagnosed HIV!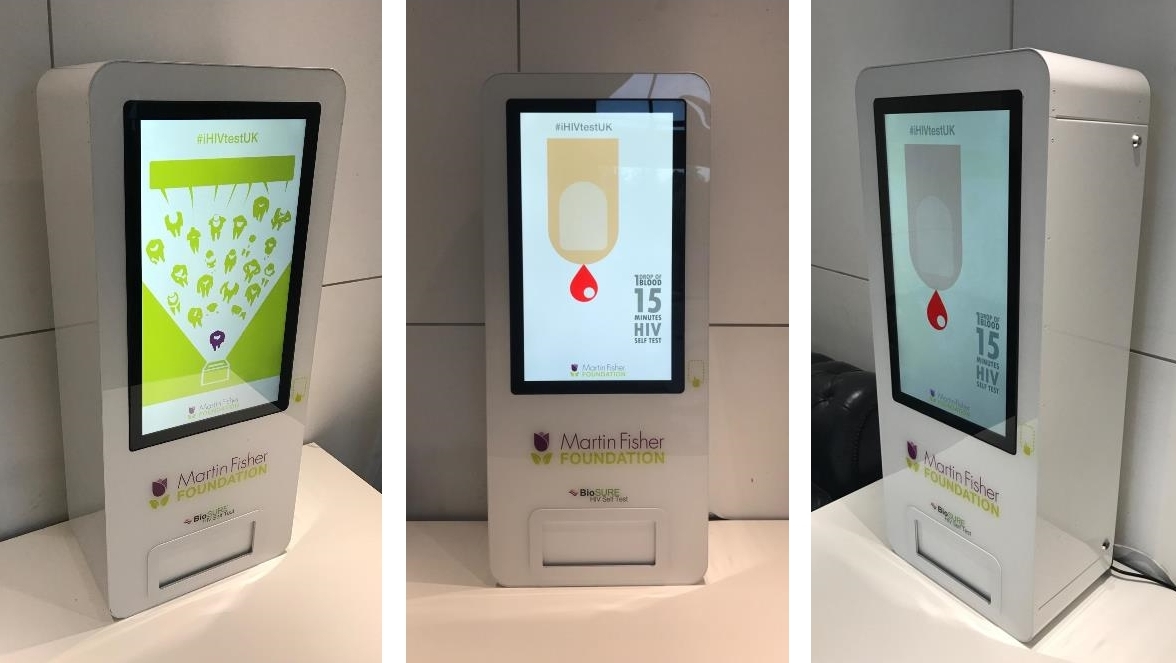 The digital vending machines (DVM) were developed by the charity in 2016/17 and funded by Public Health England (PHE) as part of the 2016 HIV Prevention Innovation Fund. They have been instrumental in enabling us to expand access to HIV testing and support individuals to take control of their sexual health. For those reluctant to access traditional healthcare settings, placing them in the community venues has reduced stigma and barriers to HIV testing, whilst facilitating confidentiality, privacy and convenience.
The world-first touch-screen machine has been distributing free HIV self-tests at the Brighton Sauna since 2017. It is unique in that during the interaction it collects anonymous user information (age, sex, sexuality, town of residence, testing history) which can inform HIV services in the future. In 2018 four more machines were fitted at Subline, The Marlborough Pub and Theatre, The Rainbow Hub and Prowler to ensure more widespread access to HIV tests.
During the COVID-19 pandemic and while the venues were closed we redeployed the machines from the Rainbow Hub, Subline,  The Marlborough and the Brighton Sauna so they could be upgraded into full Sexual Health Machines dispensing both STI kits and HIV tests. This was in direct response to feedback we'd had from the Sauna and other sites that STI testing kits would be useful in addition to HIV self-tests. A new upgraded machine will be fitted at the Brighton Sauna soon, while the HIV self-test machine, now dispensing free HIV tests, remains at Prowler.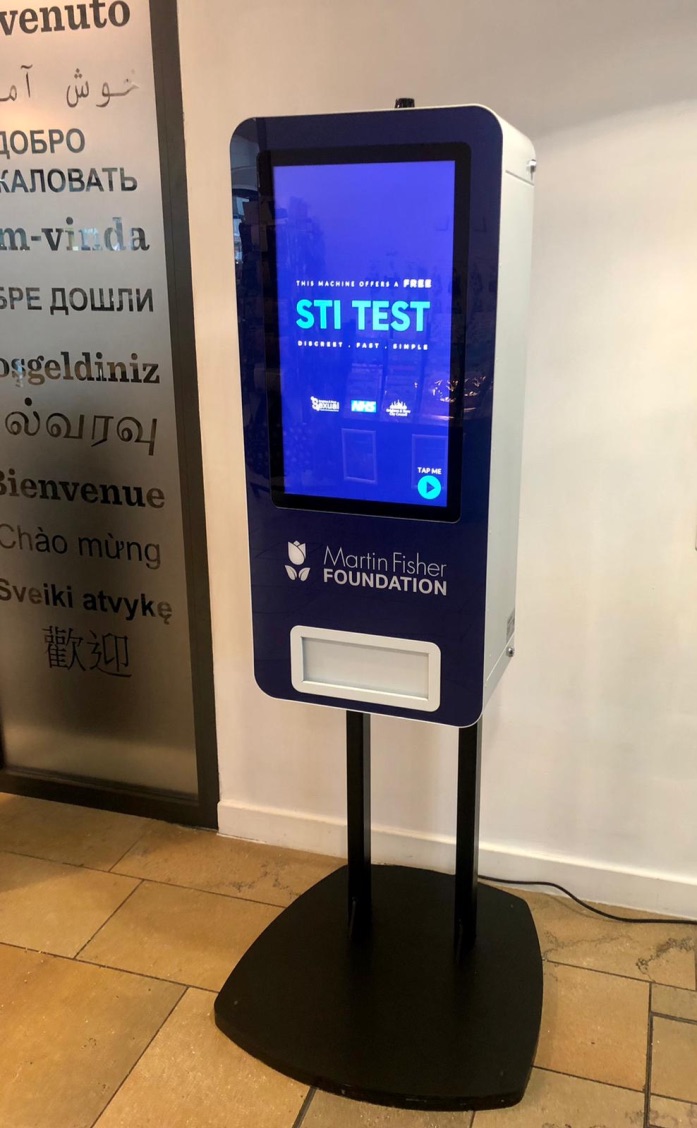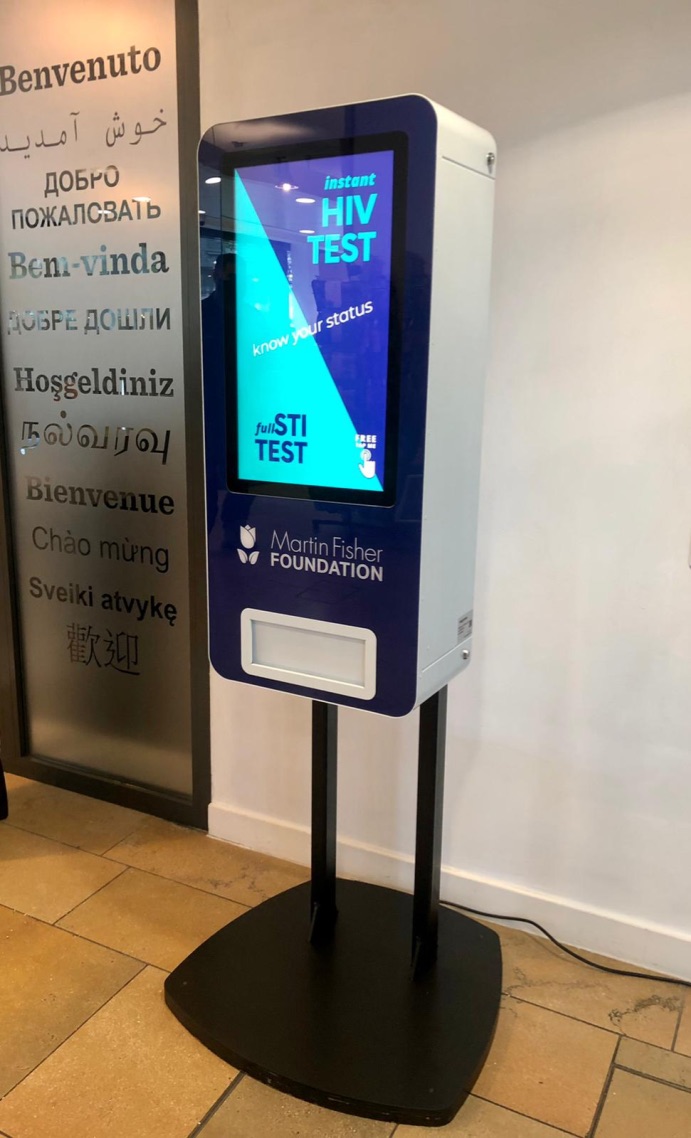 The other three newly developed combined Sexual Health and HIV Digital Vending Machines are now live! The first was installed in the Jubilee Library, Brighton in June 2021 delivering free HIV and STI tests. Two more have been fitted in August 2021 at Portland Road, Hove (between Wish Park Surgery and Kamson Pharmacy) and the Wellsbourne Centre in Whitehawk.
The Sexual Health kits contain swabs and blood sampling equipment which will be tested for chlamydia, gonorrhoea, syphilis and HIV when returned through the post to the Sexual Health Clinic. The HIV self-tests are extremely accurate (99.7%) and by using a single drop of blood, give a result in just 15 minutes. The kits are for people WITHOUT SYMPTOMS who want to check their sexual health or HIV status. Brighton & Hove is a HIV Fast Track City which means we're working together to STOP all new cases of HIV by 2030. For this to happen everyone at risk of HIV needs to take an HIV test and be aware of their HIV status. Having free testing kits more readily available will help us achieve this goal.
Each vending machine costs £3750 to install and their dimensions are 1000 (height) x 445 (width) x 280mm (depth); we are reliant upon donations and fundraising for additional machines. Please contact us if you are interested in purchasing one of our machines.
Other news: we have started to place our machines abroad with the first HIV Vending Machine going to New Zealand, followed by Japan, and now two machines are in Zambia.
We have published peer reviewed papers on the use of these vending machines: see links below
Acceptability and feasibility of using digital vending machines to deliver HIV self-tests to men who have sex with men
Surveying testing preferences in Black, Latin American, and other minorities for the co-design of digital vending machines for HIV self-testing
HIV self-tests for men who have sex with men, accessed via a digital vending machine: a qualitative study of acceptability
The use of our vending machines was published in the recent WHO Compendium of good practices in the health sector response to HIV in the WHO European Region – page 127-130